Taxpayer Update: Today's new poll | Bureaucrat blowout | EECA hypocrisy
Dear Supporter,
Taxpayers' Union Curia poll: The first post-Luxon leadership poll
The results of December's Taxpayers' Union Curia Poll, exclusive to our members and supporters like you, are available here.
This has been highly anticipated because it is the first scientific poll since Chris Luxon took over as National Party Leader.
It's good news for him. National has risen 6.4 points to 32.6%. But ACT has taken a hit and Labour is holding steady.
Perhaps more interesting is the public's view of the party leaders: on the key metric of 'net favourability', Chris Luxon is better liked than Jacinda Ardern.
Head over to our website to see the results.
Incredible blowout in public service staff numbers under Labour
While private businesses struggled to survive during lockdown, Government bureaucracies have been booming.
Last week the Public Service Commission issued an annual update of its workforce data, revealing that the number of staff in the core public service has leapt up by 29 percent since Labour was elected in 2017.
The Public Service Commission's data excludes key workforces such as Defence, Police, and DHBs – so the growth can't be pinned on COVID-19.
The graph above shows how the previous National Government failed to roll back a similar explosion in bureaucracy we saw under Helen Clark. So here is a challenge for National's new leader Chris Luxon: he needs to commit to not just a pause, but a total reversal of public service bloat. That means eliminating taxpayer-funded jobs and even entire departments.
Three Waters: Government hid its plan from local councils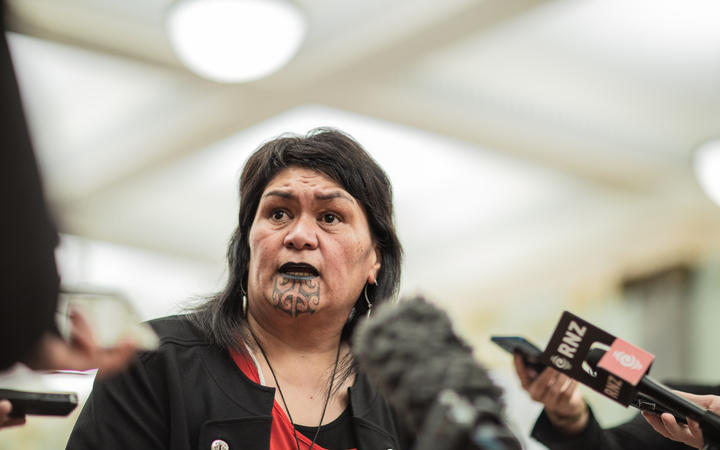 At the beginning of this year, Nanaia Mahuta was saying it could be optional for councils to be included in her Three Waters reforms. But in October she announced Three Waters would now be a compulsory "all in" reform, whether councils like it or not.
RNZ has now revealed Mahuta made the "all in" decision back in June, but kept it quiet for four months so that anti-Three Waters councils wouldn't hit the roof during her official feedback period. It's an incredible example of dishonest, manipulative lawmaking.
Three Waters has become a real problem for this Government. Nanaia Mahuta's Cabinet colleagues are spooked by the intensity of public opposition to her plans and last week she announced she's delaying legislation until March next year.
We're fighting Three Waters because it is an undemocratic asset grab that would create four massive new co-governed bureaucracies to manage water assets with little to no input from ratepayers. The new water entities will send New Zealanders new water rates bills, with no guarantee of commensurate rates relief from local councils.
We're keeping our supporters of this campaign updated, so if you'd like to receive Three Waters updates, make sure you sign the petition at www.StopThreeWaters.nz.
Ihum
ā

tao update: all hui, no housing
It's now been a year since the Government announced its $30 million purchase of illegally-occupied land at Ihumātao.
The decision to purchase the land was justified on the basis that it would result in the provision of housing on the site, with funding coming from the Land for Housing Programme.
However, we can reveal that talks between the Government and Kīngitanga with regards to housing on the land have gone nowhere. In fact, there hasn't even been any agreement over who will form the Steering Committee that is meant to make decisions on the use of the land.
You can read our blog post here, and Newsroom's coverage of our information request here.
Questionable value from feel-good spending
Back in 2018, Phil Twyford announced that the Government was partnering with an Australian charity to deliver laundry services, showering, and "conversations" for the homeless.
It sounded great, until someone pointed our researcher to their annual review, which details the services they actually delivered for the $437,500 in funding. It turns out taxpayers forked out $103 for every load of laundry or shower delivered by Orange Sky in 2019/20.
Obviously, not all of that money was spent on laundry and showers: Orange Sky paid a whopping $159,485 on management fees that year to its Australian parent organisation.
Orange Sky weren't too happy about our exposé. Their Brisbane-based Senior Marketing Manager emailed me with a long response, insisting that the "genuine, non-judgemental conversation" they provide is worth the taxpayer spend. When I didn't reply within 24 hours, I got a call from their PR firm! You can find our exchange at the end of our blog post.
Here's an idea: how about we strip down the Australian management fees, the 'conversations', and the marketing/PR spend and pay campgrounds to provide these services? It would be a fraction of the cost.
Smokefree plan is a bonanza for organised crime
Organised crime groups will be salivating at news of the Government's new Smokefree 2025 plan. The plan will slash nicotine content in legal cigarettes to "very low" levels and ban all sales to New Zealanders born after 2008 if legislation passes next year.
Already, one in ten cigarettes smoked in New Zealand are sourced from the untaxed black market (smuggled or homegrown). Now the Government wants to deliver that black market a monopoly on full-strength smokes and exclusive access to younger smokers. It's madness and will see more taxpayer resources diverted to dealing with organised crime.
This plan ignores the evidence of what's already working: smokers are switching to vaping, a far less harmful alternative. There is no need for nasty, experimental policies that will make smokers miserable and criminals rich.
Is this the most hypocritical and pointless government agency of the lot?
The Energy Efficiency and Conservation Authority (EECA) has been running a serious of big-budget ad campaigns telling New Zealanders to cut carbon emissions by driving and flying less. They've spent $4 million and counting on their "Gen Less" campaign.
EECA's last advert shut down major streets in Wellington as they staged and filmed a fake climate march.
And their most recent ad is one of the most self-righteously condescending taxpayer-funded adverts we've ever seen, telling New Zealanders to join the "right side" of history in the fight against climate change. The ad for some reason features images of Rosa Parks, Black Lives Matter protestors, and gay newly-weds.
So we decided to check the personal expenses of EECA CEO Andrew Caseley: in the last financial year he alone spent more than $8,000 on taxpayer-funded travel, including 31 domestic flights.
Is this what EECA thinks energy efficiency looks like?
All the best,

Louis Houlbrooke
Campaigns Manager
New Zealand Taxpayers' Union
Media coverage:

Stuff  Unvaccinated Māori have a right to privacy  

RNZ  The Week in Politics: Christopher Luxon's first test

NZ Herald  Luxon may have timing right on Covid Response

Newsroom  Ihumātao housing waiting on Kīngitanga appointments

Stuff  Auckland needs a new mayor - and you may know just the person

The Shout  Call to scrap alcohol tax as hospitality reopens

Homepaddock  Rural round-up

Homepaddock  Sneering at success 

Kiwiblog  A great summary

RNZ  The Pre-Panel with Emily Loughan and Louis Houlbrooke

RNZ  The Panel with Emily Loughan and Louis Houlbrooke (Part 1)

RNZ  The Panel with Emily Loughan and Louis Houlbrooke (Part 2)

Homepaddock  Rural round-up

Stuff  Pillorising academics over their views is mob rule triumphing over reason

Stuff  What the new National leader will have to deal with
Do you like this post?